Portrait of a Young Woman
Piero del Pollaiolo , 1475
Tempera sur bois 55 x 34 cm
Galleria degli Uffizi, Florence
As the old attributions to Piero della Francesca, to Domenico Veneziano and to Verrocchio were discarded, the critics have been long undecided between an attribution to Antonio or to Piero del Pollaiuolo. After the recent restoration of the painting - which has been very damaged by former washing - the attribution to Antonio has assumed much greater probability.
The profile of the lady, who is not of classical beauty, is perfectly defined by a sharp line that separates it from the delicate lapis-lazuli blue background. The woman, with her colourful complexion and fashionable hairstyle, has a distinctly human appearance. The artist has paid particular attention to her clothes. The various materials and textures of the precious dress have all been carefully considered, from the imperceptible veil that adorns her hair to the shining crimson velvet and lavish brocade.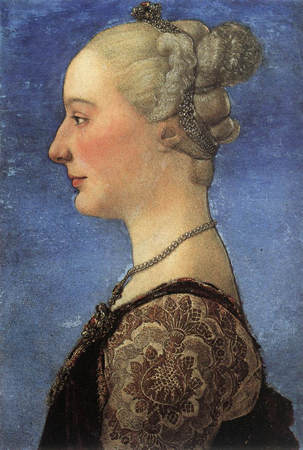 Portrait de femme
1475